Whether you're a novice runner, someone who has completed dozens of marathons, or you fit somewhere in between, finding the perfect running shoes can be a challenge. There are hundreds of running shoes available, so it's essential to learn which ones work best for your feet. You also need to think about factors like whether you need insoles for additional arch support. Consider using technology to find the best custom-made running shoes before you hit the ground running.
Running Shoe Types
When shopping for running shoes, it's important to know what types of shoes are available. Here are the three most popular types:
Cushion: This shoe provides minimal support for overall control, but it helps with reducing shock. It's an ideal option if you have high arches and often land with supination, which means your weight rolls to the outer edges of your feet. In a normal stride, your feet roll inward slightly so that your weight falls on the balls of your feet. From there, you push off from your big toes.
Stability: This shoe controls excessive pronation, which refers to when your feet roll inward while walking or running. When your feet hit the ground, your arches collapse to absorb the impact, and your feet roll slightly inward. However, if they do this too often, you may be at risk of injuries. In this case, you should consider stability shoes. This is best if you have medium to low arches.
Motion control: This type of shoe limits your foot's movement in all directions and is best for more extreme cases of

overpronation

. Use this shoe if you have low arches and flat feet.
Custom Running Shoes
Many running shoe stores offer scanning technology to find shoes that fit your feet properly. Once you enter the store and find an associate, you should share your running goals, struggles, and limitations. Next, you might step on a platform and use 3D scanning technology to precisely measure your feet, including arch height, width, and length. The technology also diagnoses your stance and stride. From there, the associate will work to find the perfect pair of running shoes for your feet.
What About Orthotics?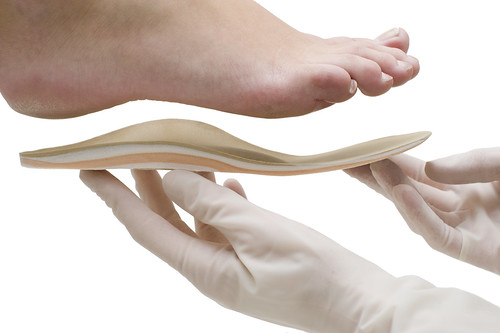 Image via Flickr by gm.estermax
If you don't want to go through the scanning experience or already have a pair of shoes that you like, consider orthotics. These custom-made prescription insoles can fix the alignment of the foot's joints and bones as well as the lower extremities and the spine. The insoles change how these bones and muscles operate when you walk and run, allowing your muscles to function at their highest performance. As a result, your muscles become less fatigued and stressed. You might also experience lower back pain relief thanks to these insoles.
When making orthotics, you must undergo a biomechanical exam to make sure that you have proper alignment with the new device. From there, you get an impression of your foot's shape and contour created out of plaster material. You might need to have adjustments or come back in for follow-up appointments to ensure that the fit is accurate. Don't be surprised if you have to wait anywhere from a week to a couple of months to get used to the orthotics.
Another benefit to orthotics is that they can last up to 15 years, depending on the type of material used. You should get your devices recovered and repaired every three to five years to extend their lives. Simply return to where you purchased the orthotics and have them reevaluated.
Best Running Shoes for Custom Orthotics
Orthotics tend to take up a lot of space inside a running shoe, especially once you remove the factory insert. Also, many running shoes don't leave a lot of extra room in the front, so placing an orthotic in the shoe makes for a tight fit.
According to The Wired Runner, here are a few of the best shoes to wear if you use orthotics:
Saucony

Echelon 7: This shoe is built for running on the road, but it also works well for walks. It isn't too heavy but provides plenty of cushioning. Technologies found within the shoe help support the entire foot, such as a heel frame to keep your heel from sliding and a toe cap to prevent bruising. Also, the shoe has arch support that's perfect for low to medium-high arches while still maintaining enough space to insert an orthotic.
Brooks Dyad 11: With a wide toe area, this shoe is perfect for orthotics. By using Brooks' authentic cushioning, the shoe adapts to your feet when you move. Compared to previous versions, this one is slightly lighter and has additional space for your toes if you have wide feet or need orthotics. It also includes mesh on the interior for ventilation and a sock liner for extra comfort.
Mizuno Wave Horizon 2: A lightweight and stable shoe, this option is durable and supportive if you need additional cushioning. Featuring special plate construction, the shoe gives you plenty of protection upon impact. Another benefit is that this shoe has a thick ankle collar and padding as well as breathable mesh to keep your foot cool.
Tips for Choosing a Running Shoe
Before you head off to the store to try on a few pairs of running shoes, keep these tips in mind:
Since your feet tend to swell throughout the day, consider trying shoes on in the afternoon. Also, bring the kind of socks you plan to run in so that you can achieve the ideal fit.
Your shoe size changes when your body changes, so you should measure your feet regularly. For instance, your feet might swell if you're pregnant, or they might expand as you age.
Don't expect the shoe to feel comfortable right away. It takes about two weeks to break in a new pair of running shoes.
It's best to change shoes every 400 to 500 miles you run. Make a note of the date you began wearing the new custom shoes on a running log or inside the shoes so that you know when it's time to purchase another pair.
Custom-fit running shoes and orthotics can help you feel comfortable while you pound the pavement. If you feel pain while running, visit Dr. Lisa M. Schoene. With extensive experience as a podiatrist, a sports medicine specialist, and a Certified Athletic Trainer, she has worked with numerous runners and was part of the U.S. medical team at the 1996 Olympics.